• Blogger • New Year • Shop • Shopping • Thank You • Update • Welcome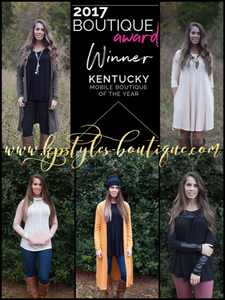 Hey ya'll! It's been a while :) WOW! What a year 2017 was! We've ALMOST made it through our first full year in business.. And boy, have we learned a lot! We are looking forward to 2018 and all the opportunities that it holds! We have some exciting shows coming up this year and we are definitely working to grow our brand every single day. We would like to thank each of you for choosing K P Styles Boutique in 2017 and we hope you continue to do so in 2018. Thanks for voting us the Best Mobile Boutique in...
---
• August Events • August Pop Up Shop • Boutique • Pop Up Boutique • Pop Up Shop • Stop and Shop • Vendor Event • Vendor Shop
K P Styles Boutique isn't as busy in August, however, be ready for Sept-Nov because we are BOOKED!  This month you can visit us & shop our pop-up shops at the following events:  Saturday, August 12th - Dog Days of Summer Festival - Auburn, KY from 9am-4pm. This will be on Main Street in Auburn. There will be shopping, concessions, live bands, car shows, and more!  Friday, August 25th - Bowling Green Night Market - Bowling Green, KY from 5pm-10pm. As usual, we will be participating in the Bowling Green Night Market hosted in Stadium Park Plaza next to the...
---
• Festivals • Pop Up Sales • Sales Events • Upcoming Sales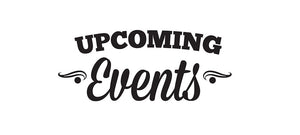 Hi ya'll! Sorry I am little late into June with posting our monthly pop up sale schedule.  This month there isn't a lot going on so I am going to combine June & July events in this one blog post.  June 3rd, 2017 we were at The Spring Soiree at Ephram White Park here in Bowling Green from 9am-3pm.  Saturday, June 17th, 2017 we will be at the Harley Davidson Bowling Green Birthday Bash from 9am until about 6pm or so. There will be live music, food, other vendors, giveaways, games, etc. at this event! You don't wanna miss it!...
---
• Announcement • Boutique • Bowling Green KY • K P Styles Boutique • Kentucky Boutique • KY Boutique • Pop Up Boutique • Pop Up Locations • Shop Local • Store News • Upcoming Events
Hi ya'll! Business is starting to pick up, so first and foremost, I want to say THANK YOU to all of my wonderful supporters! I have several pop up events planned for the next few months. I am going to list the locations, dates and times here on this page. If you have questions related to these events, please shoot me a message.  May 2017: Saturday, May 6th - Munfordville City Wide Yard Sale - Located on the Square - Munfordville, KY from about 8am-3pm. Saturday, May 13th - Junk'tion Market - Historic Rail Park & Train Museum - Bowling...
---
• About the Boutique • Announcement • Boutique • Boutique 101 • K P Styles Boutique • Opening Blog • Store News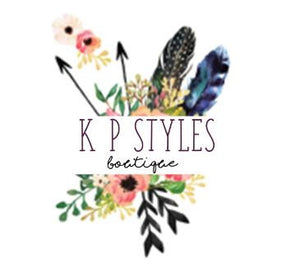 Hi ya'll! My name is Kasey... I am finally pursing one my dreams by opening an online boutique (ahhh!!) after selling new and gently used clothes in my PoshMark store for about a year. Am I nervous? Sure am! Do I know if I'll be successful? I sure hope so! Will I give this all I've got? Definitely! My main goal is to offer affordable, trendy boutique clothing to shoppers that love boutique clothing as much as I do! I am open to any suggestions of what ya'll would like to see in my store.. If you have suggestions, opinions,...